Sandrart.net: An enriched online edition of a 17th century text
February 23rd, 2012 • Berlin
Agenda
What is "Sandrart.net"?
Subject
Goals
Information on the project itself
What we achieved
Annotations
Some thoughts on lifecycles
The subject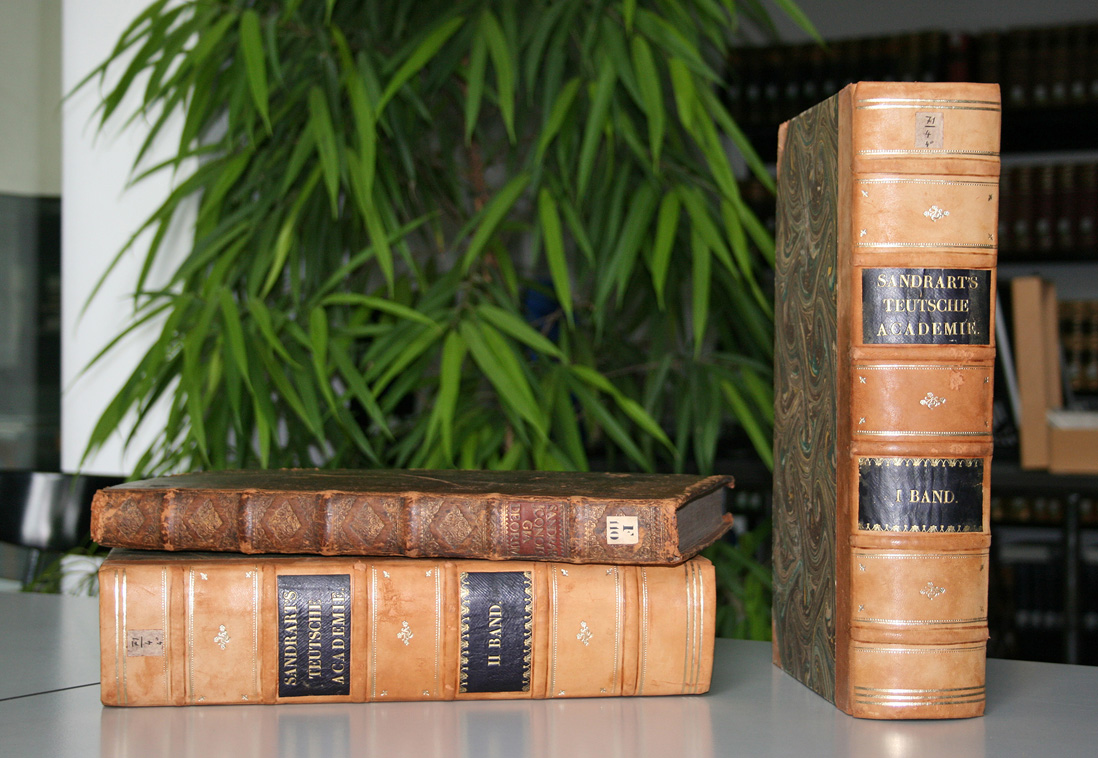 Joachim von Sandrart: "Teutsche Academie der Bau-, Bild- und Mahlerey-Künste"
Nürnberg 1675 / 1679 / 1680
The subject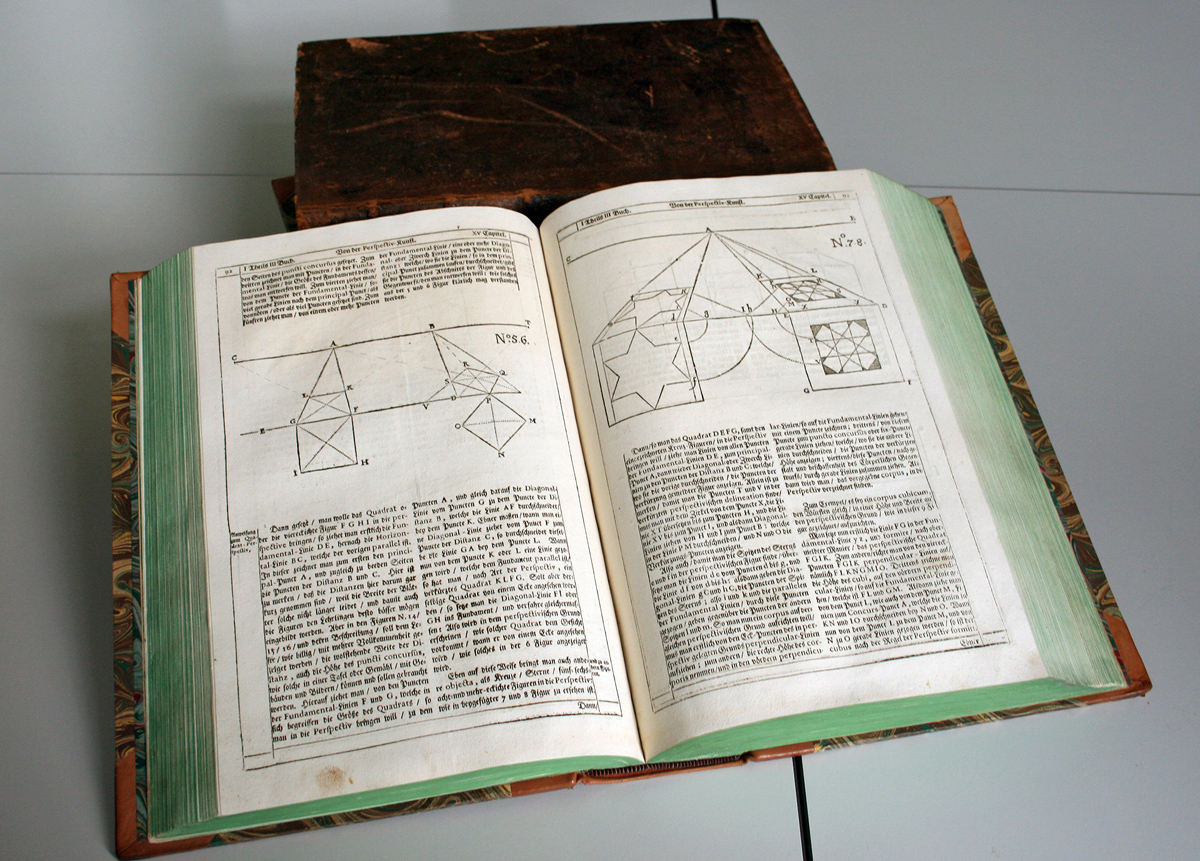 3 volumes • 1,600 pages (not including blank pages) • 6.9 million characters • Approx. 300 full-page copperplate engravings
The Idea
Goals
In one sentence:
A (partially) annotated web-based edition of the "Teutsche Academie" that assists the user in finding persons and places mentioned in the text and that offers partial translations to other languages.
The project
Goethe-Universität Frankfurt
Kunsthistorisches Institut in Florenz – Max-Planck-Institut
Funded by the Deutsche Forschungsgemeinschaft (DFG)
April 2007 – March 2012
Long-time availability: Herzog August Bibliothek Wolfenbüttel (HAB)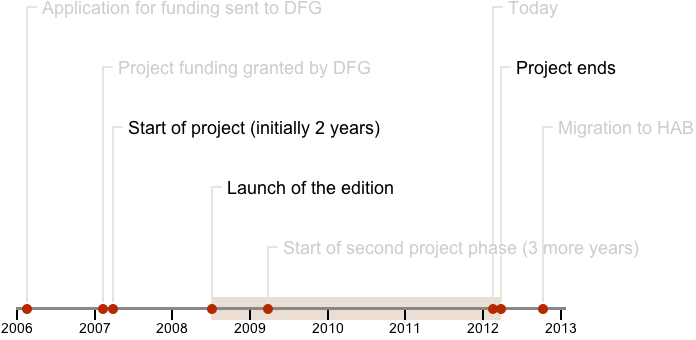 Current state
Resources
Digitized images available on the web
Full text available on the web
Databases of entities mentioned in the text

More than 5,000 persons
More than 2,000 places
More than 2,400 works of art
(+ More than 2,500 additional artworks which provide additional context)
More than 300 publications and manuscripts mentioned in the text
(+ Bibliography)

More than 6,000 annotations
Roughly 30,000 cross-references (triples) between entities
Partial translations
Current state
Information retrieval
Faceted search (full-text search, search in annotations, search in databases)
Individual searches / filtering methods in all databases
Approx. 60,000 occurrences of persons, places, publications and artworks tagged in the text. Every entity is searchable, regardless of spelling or name used in the text.
Connecting & linking
Thousands of cross-references to authority files and data sources (PND, ULAN, TGN, Census, VD17, …)
PND-based cross-references to other sites ("PND BEACON")
Permanent URLs (PURLs) for text pages and database entities, incl. annotations
Web API (proprietary XML/JSON via REST), incl. text occurrences
Linked Open Data (RDF)
The edition
Introduction to the edition, starting on page 629
Annotations
"Classical" annotations
Annotations in the context of our project: Information added to things
Purposes
Annotations in this broader sense in many places in the edition, also beyond the text
Why non-textual, machine-readable annotations?
To sum up: Textual, "classical" annotations are important, but non-textual, machine-readable annotations form the backbone of Sandrart.net
Annotations
The need to be precise
Contradictory information
Ambiguous information
Information that is biased or implies a certain perspective
Not everything can be expressed
Annotations
The side-effects of complexity
What about the user?
What about contributing scholars?
Can become more difficult to present the information in a useful way.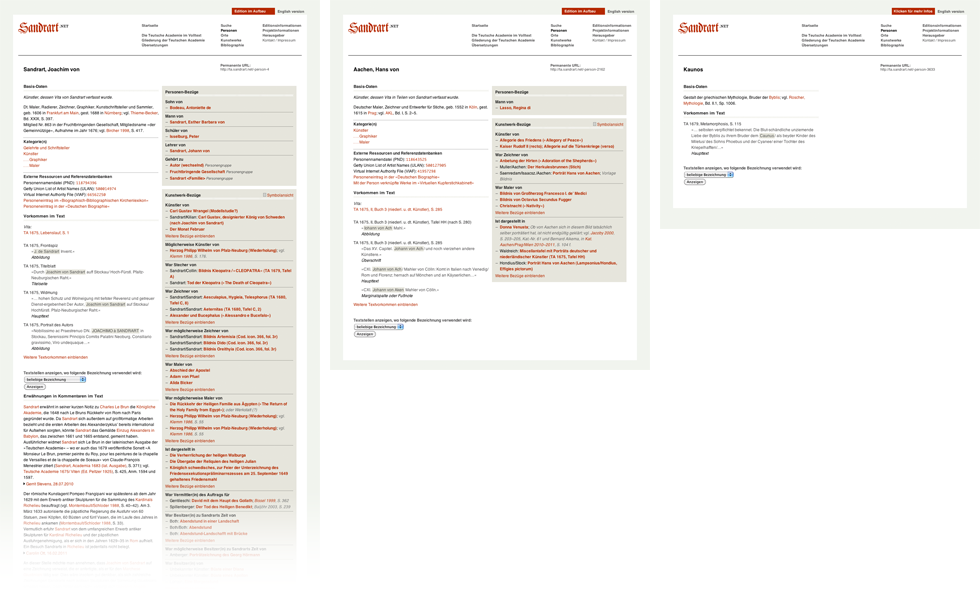 Annotations
Annotations & "The Cloud"
Annotations become distributed
Modern concepts (Linked Open Data, Web APIs, nanopublications, …) can offer new possibilities to enrich your data
Problem: Increasing dependencies

"A distributed system is one in which the failure of a computer you didn't even know existed can render your own computer unusable."
(Leslie Lamport)
Lifecycle
Availability of our resources and services
Availability of external resources
Problem: consuming/using external data vs. changing content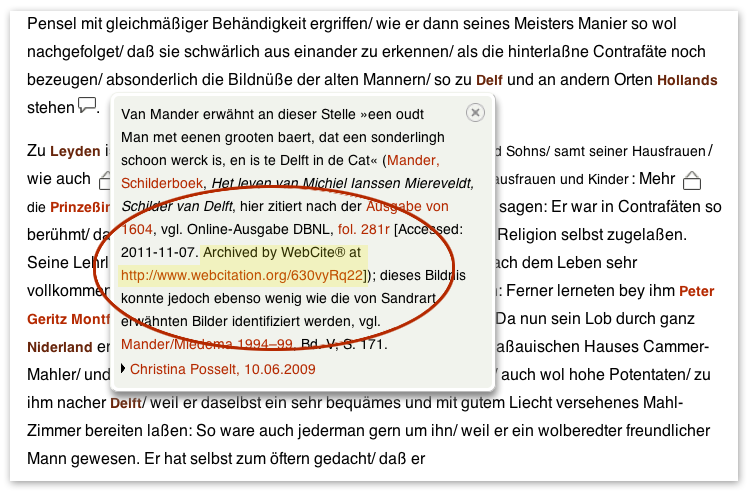 Lifecycle
Reliable content vs. ongoing development
Benefits
Get feedback
Find contributors
Find cooperations (Deutsches Textarchiv, Herzog-August Bibliothek)
Appendix – In case someone asks: Transcription
Why manual text transcription?

Mix of Gothic print and Antiqua (even inside words)
11 languages
Inconsistent orthography
Abbreviations
Conclusion: OCR not feasible
Appendix – In case someone asks: Tagging
Why manual tagging of entities in the text?
Ambiguities or "False friends"

"Teutscher Apelles" = Joachim von Sandrart, not Apelles
Errors in seemingly unambiguous names.
For instance: "Benedict IX." = Benedict XI.

"Rhenus" could be the river or a personification of the river
Not only names, but also paraphrases
No advance knowledge of which entities are in the text
Large number of different entities, hundreds still not even identified
Artworks: no formal criteria. Sometimes a single word, sometimes a paragraph
Appendix – In case someone asks: TEI usage
TEI usage
Physical text structure (volumes, pages, column breaks, …)
Logical text structure (<div>, <head>, <p>, <argument>, <titlePage>, <lg>, …)
Objects in the text (persons, places, artworks, publications): <rs type="…">…</rs>
Small number of other elements used: <sic>, <corr>, <date>, <foreign>, <ref>, <seg>, …
Appendix – In case someone asks: Handling of annotations
Method
Annotations are saved in a database and only referenced in TEI
Annotations are "compiled" into TEI
Reasons
Annotations in entity records are technically identical
Annotations can be re-used
When kept in a database, earlier versions can be more easily saved and diff-ed
Easier searching
Most simple solution for offering PURLs for annotations and display annotations by themselves
Annotations become objects in their own right
Appendix – In case someone asks: Implementation
KISS principle: "LAMP"
Linux (Mac OS OX, other Unices)
Apache (Lighttpd, Nginx, …)
MySQL (PostgreSQL, SQLite)
PHP
"XML shredding"
Context-aware
Creating well-formed subsets of the text
Why no XML database?
Appendix – In case someone asks: Context-sensitive Shredding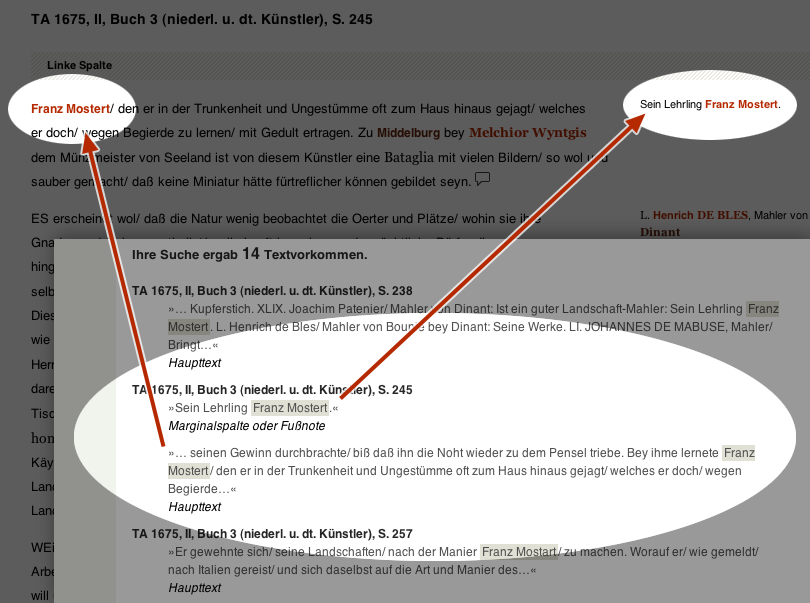 Appendix – In case someone asks: Changed content
Changes since the first launch of the edition in July 2008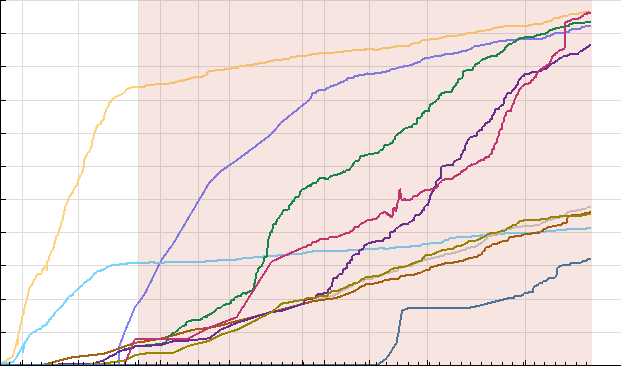 ←
→
/
#